The Kingdom of Albion consists of our Capital (Las Vegas and State of Nevada), the Canton of Outremar (Laughlin, NV) the Canton of Desert Haven (St. George and Southwest Utah) and additional members (in Mojave County, AZ, and California).

Taking the name of ancient Britain, Albion is one of the Empire's youngest and largest Kingdoms, and the host of Adria's Annual National Steel Tournament.

As home to a large number of Adrian's, there are many views of what Albion means to us. We are proud of our hard fought independence. We began as a refuge and place for second chances.

We have grown into a strong Kingdom with a unified voice and vast resources. Like Elizabeth and her "sea-dogs", our refined gentry are at ease with our loyal rogues.

Our archers, artisans, combatants, and ministers have the opportunities to excel in monthly tourneys held in our capital and cantons.

Our annual events include: 12th Night, Hearts and Honour, Fools' War, Boulder City Renaissance Faire, Festival of the Green, Southern Utah Midsummer Renaissance Faire, St. Augustine's War, CCPR Age of Chivalry Fair and National Steel Tournament, Day of the Dead, Crown War, Coronation, Champions' Tournament, and Yule Feast.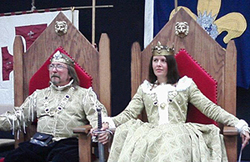 Sir William Baine & Dame Mary Elizabeth

Ministers
Cantons
Charters
Internet Presence
For Information about our Kingdom please contact: dreye@cox.net, or (702) 736-0510